Microblading is our specialty
Microblading is a procedure that is newer to the DFW area but has been around for quite some time in Europe. Microblading is a procedure on the eyebrows that is semi-permanent. We use a hand tool with disposable micro blades to implant the pigment right under the superficial dermis of the skin. This allows the technician to create fine hair-like strokes that look like individual natural eyebrow hair.
Microblading is the most natural looking & advanced technique for beautiful eyebrows
Move side-to-side
to see before and after
Master Microblading Artist of DFW Microblading
Head Microblading Artist | Dallas Location
Microblading Specialist
Angela Teixeira is one of the Master Microblading Artists at DFW Microblading and manages the Dallas and Carrollton locations.
"Microblading has quickly become a passion of mine and something I've come to enjoy as more than just a job. I get to use my artistic skills to create beautiful brows that truly transform a woman's face. I, myself, have my eyebrows microbladed and recommend it to everyone who wants to wake up in the mornings looking naturally and effortlessly beautiful!"
– Angela Teixeira
More About Microblading
Although microblading is less invasive than traditional eyebrow tattooing, it is still a procedure that requires pigment to be implanted into the dermal layers of the skin. For the procedure to be more comfortable for the client, an anesthetic is used to numb the brow area. When using a more manual hand held tool such as the micro blade(the tool used for the microblading procedure), the pigment is deposited closer to the surface than when a traditional tattoo machine is used, leaving very fine and crisp hair-like strokes with no spilling or bleeding of ink under the skin.
One of the many reasons that makes microblading different than tattooing is the fact that microblading is a manual procedure. Tattoo machines are not used during the procedure.
The microblading procedure is known to last between 1-2 years. After this period of time, the procedure may need to be done over again or a touch up will be required to re-implant the pigment under the skin.
The amount of time that it takes for the pigment to fade depends on the skin type and lifestyle of the client. Lots of sun exposure, scrubbing, or skin lightening cream usage can aid in the fading process. It is advised to use sunscreen and take gentle care of the brows.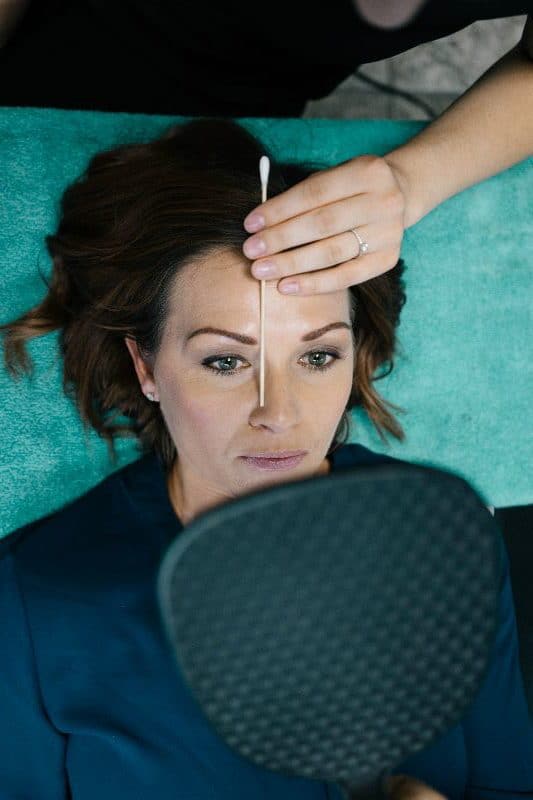 DFW Microblalding specializes in Eyebrow Microblading services using the best possible products and High-end equipment in the industry.
DFW Microblading has quickly become one of the most recommended microblading salons in the Dallas/Fort Worth area.
From the very beginning, we have always been dedicated to raising the bar in the beauty industry, creating long lasting results and providing professional servicse in the Eyebrow Microblading industry. Our team is skilled and trained to perform the procedure with excellence and precision every time. Each artist is taught to listen to the client's needs and wants. This allows for the results to be unique to each client. Our artists had to undergo extensive training on top of their microblading certification to become a DFW Microblading employee.
Customer satisfaction is one of our top priorities as well as using quality products and sterilized equipment and tools. We want each client to be 100% happy with their brows and to walk out of our office with confidence and joy. Our clients are also our walking advertisements so we care about the results as much as you do. Because we use quality pigments and blades, the outcome of the procedure is long lasting. We guarantee a year, but some clients may have results that last up to 3 years.
Microblading Questions and Answers:
We understand that when looking into getting a semi-permanent procedure done, you may want to do your research and ask alot of questions. Below is a list of common questions regarding the microblading procedure and what to expect. If there are any questions you may have that are not listed here, feel free to call us!
Dallas Location:
6033 Berkshire Ln
STE 104
Dallas, TX 75225
Located inside Phenix Salon and Suites
Call (855) 696-5274
Book Your Appointment Here